FASHION ON FIFTH AVENUE: TIFFANY & CO. EXPERIENCE throughout 2012.


Indulge in your passion for jewelry and fashion with an unforgettable appointment at Tiffany & Co. Arrive to The St. Regis New York by private transportation where our singular Tiffany Suite awaits your stay. Champagne, fresh fruit and the pressing of two garments will make checking in a wonderful experience, while an array of amenities set the tone for a flawless time in residence. That morning, enjoy a private "Breakfast at Tiffany" at the jeweler's renowned Fifth Avenue store in their by-invitation-only Tiffany Salon. A space not open to the public, the salon features the largest collection of Patek Philippe watches in the United States and a bespoke gathering of Tiffany & Company's most coveted creations. As part of this gracious start to the day, you will tour Tiffany's jewelry workshop, where master designers hand craft the world's most exquisite diamond and gemstone jewels. Return to your suite for a restful evening amid refined interiors and every need addressed by your St. Regis Butler. As the sun rises on the following day, awaken to a full American breakfast for two at the refined Astor Court before departing.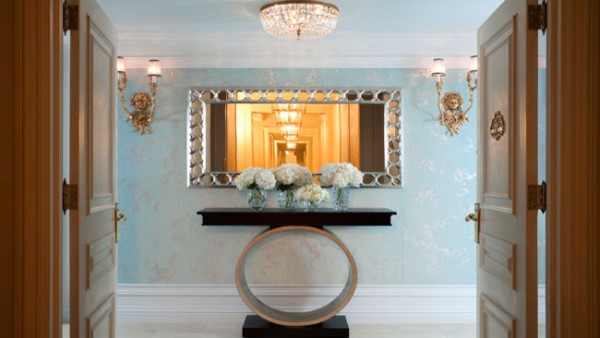 $9,500 per one night (excluding taxes) in the Tiffany Suite includes a private "Breakfast at Tiffany" at the jeweler's Fifth Avenue store in their invitation-only Tiffany Salon, jewelry workshop, round-trip airport transfer service, 24-Hour Butler service, two garments pressed on arrival, fresh fruit and champagne on arrival, daily Tea or coffee at wake-up, daily full American breakfast in the Astor Court for up to two guests, unlimited non-alcoholic beverages and snacks from the in-room mini bar, complimentary Internet, all local phone calls and unlimited pay per view movies. Cancellations must be made one week in advance.

To reserve this St. Regis Aficionado experience, please contact:
Jessica Disch
Telephone: 212.339.6738
Email: jessica.disch@stregis.com

There are many St. Regis Aficionado packages avaiilable at various locales throughout the world. To see more information, click HERE.